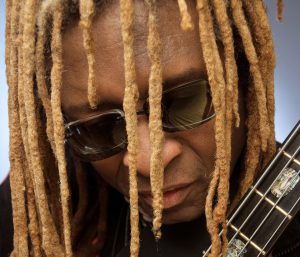 TM Steven's skill and proficiency globally as a bassist and vocalist is legendary. A luminous figure amongst today's bassists, he has unbelievable energy, stunning stage presence and knows how to win a crowd over within minutes. His ferocious, yet melodic, style of bass is as unique as his larger than life persona. Never losing sight of his own special blend of signature roots music Heavy Metal Funk with his band Shocka Zooloo, TM's versatility and heavyweight skills as producer, songwriter, singer and instrumentalist are obvious on his now six solo albums with a seventh due in summer of 2006.
He successfully presents himself on these as both songwriter and producer and still enjoys working with other artists when his schedule allows. With at least two European Shocka Zooloo tours each year he also toured in 2004 with Jean Paul Bourelly and drummer John Blackwell (Prince). In Autumn 2005 he completed his Asian tour with Neil Zaza going directly into a lengthy European tour with Shocka Zooloo, finished 2005 with the collaboration of TM, Carl Palmer (ELP) and Andrea Brado in Italy and Russia and even squeezed in another European ELP tour in February of 2006.
TM's rich, hefty, trademark vocals came about through James Brown's insistence that he not only play bass but sing on "Living In America" and Mr Brown's album "Gravity". This was TM's in-road to many years of sessions and productions with some of the world's finest artists.
His extravagance, combined with tenderness and complimented by a whole lot of 'Funkiness', is enriched through years of recording with award-winning stars like Steve Vai, Cindy Lauper, Little Steven, Tina Turner and Billy Joel. A former member of The Pretenders, TM recorded on the platinum album "Get Close" and also produced and arranged, amongst others, the album "Tribute to Deep Purple According to New York" on which artists like Yngwie Malmsteen, members of Living Color and Bernie Worrell (P-Funk) all participated. It was TM who contributed the compelling groove with his unmistakable style on Joe Cocker's mainstream classic "Unchain my Heart." Together with Narada Michael Walden he penned the billboard hit "I Should Have Loved Ya."
His early jazz years brought him to play with the man hinmself, Miles Davis, and fans speak almost religously of TM's performance at Montreaux Jazz Festival so many years ago with One Truth, Mahavishu and John Mc Laughin.
---
JAHR: 2006